Our programs are free or low-cost and are open to all residents of the Municipal District of Foothills #31 in Alberta, Canada. Check each program for method of registration or call 403.652.5090.
Literacy and learning is a lifetime process. But, it is very important to have impact on children in the early years. "It is never to late and never too early..."
School-age children need support as they progress through the grades. Parents continue to have impact on their child's success through into adulthood. Family literacy programs provide parents with ideas, tools and strategies that build on the strengths of the family, helping them to help their children through the different stages.
Dog Tales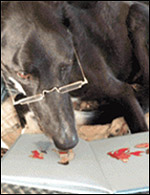 This program is designed to pair children struggling to enjoy reading and a dog who is trained to listen to them read. The dogs are screened for gentle character and good habits.
This is a program for youth 7-12 years old.
View the calendar for program locations, times and registration details for Dog Tales in the community.
If your child is a struggling reader and does not like to read out loud ask at you school to see if they offer the program.
Check out this ABC video to see a newscast on a similar program.
Check out Literacy for Life's Dog Tales Program at École Good Shepherd School – A unique reading program!
Check out his article in the Okotoks Western Wheel Weekender about our Dog Tales program.